Multi Cyclone Dust Collector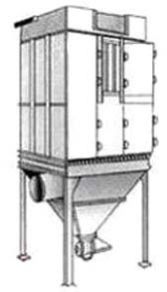 Business Type
Manufacturer, Exporter, Supplier, Retailer, Wholesaler
Type
Dust Collector
Certification
CE Certified
Application
Dust Collecting
Click to view more
Product Details
Weight
100-200kg, 200-300kg, 300-400kg
Automatic Grade
Automatic, Fully Automatic
Power
1-3kw, 3-6kw, 6-9kw
Buyers can avail themselves of high-quality Multi Cyclone Dust Collector at market-leading prices from us! We are standing amid the preeminent Manufacturers, Exporters, and Suppliers of Multi Cyclone Dust Collector from Gujarat, India. We lay emphasis on the quality of the product that we offer; and to ascertain that in a foolproof manner, we make it undergo stringent quality tests. Other than quality, our products are known for easy installation and low maintenance hassles.

Details : In spite of what some would like us to believe, dust collection cyclones are simple tanks with no moving parts and have been used for dust separation for over seventy years. They are made up of just a few parts, an air inlet, an outer cylinder, an air outlet, and cone with dust chute that connects to a collection bin with flex hose. Dirty air comes in through an inlet and spins quickly around. This spinning throws the heavier particles outward to the cyclone walls. Airflow on the cyclone walls is slowed by friction. Particles get trapped in the slower moving air then gravity pulls them down. As the air continues to spin it slows and drops downward. The cone on the bottom of the cyclone forces that slowing air to keep the particles pressed tightly to the walls. Those particles continue to slide downward and eventually exit out a dust chute into the collection bin. The dust chute is sealed tightly to the bottom of the cyclone with no air leaks to stir up the collected dust. At a certain place inside the cyclone called a neutral point, the spinning clean air reverses direction and comes up through the centre of the cyclone then exits through the cyclone outlet.
Salient Features :
Easy installation
Low maintenance cost
Robust construction
Compact
Looking for "
Multi Cyclone Dust Collector

" ?